Gina K. Garner
---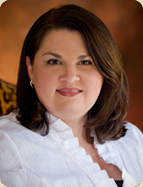 As a child growing up in The Woodlands, Dr. Garner always knew she wanted to be a dentist. A traumatic injury when she was young ignited her passion for making a difference in people's lives -- as her own dentist did. After graduating with honors from Texas A&M University, she enrolled at the University of Texas Health Sciences Center at San Antonio Dental School. Upon receiving her DDS, she returned to The Woodlands, where she has been practicing ever since.
Dr. Garner specializes in general and cosmetic dentistry, using the most up-to-date technology to transform the smiles -- and lives -- of her patients.
Her childhood experience in the dentist's chair shaped the way she interacts with patients. She takes extra care to understand their concerns, and prides herself on treating each person as an individual, tailoring her approach to suit their needs.
"I like to get to know my patients and find out what makes them tick," she says. "What are their interests, as well as their fears? That way I can help alleviate those anxieties through education and demonstration of techniques so the patient will know exactly what to expect."
Her aim is to provide the highest level of care in a warm, welcoming environment.
"I've made it my goal to create a state-of-the-art facility, incorporating the cutting edge technology to give my patients the best possible results," she says. "Here, patients will be treated warmly and with a smile. We offer painless procedures and beautiful cosmetic and restorative options."
Dr. Garner keeps up on the latest research and techniques, attending many seminars and advanced continuing education courses. She belongs to numerous dental societies, including the American Dental Association, the Texas Dental Association, the American Academy of Cosmetic Dentists, the Greater Houston Dental Society, and is the past president and co-founder the Women of The Woodlands Dental Study Club.
Dr. Garner and her husband, Charles, reside in The Woodlands with their son Gavin and Labrador retriever Maggie. She enjoys traveling, dancing, playing with her son and is an avid reader.